JESUS SAVIOUR'S SCHOOL
NEAR TEHSIL COMPLEX, KHAMANON
DISTT. FATEHGARH SAHIB (141801) PB.
Date: 7 Feb , 2020
Circular No. ACAD/01/2020
Subject: Annual examination 2019-20 for classes IX and XI .
Dear Parents
Annual examination for classes IX and XI is scheduled as given below. It's the duty of both teachers and parents to prepare them well. Encourage and motivate them for the same. Kindly provide a proper environment at home for the preparation.
With regards
Principal
JESUS SAVIOUR'S SCHOOL, KHAMANON
DATE SHEET ANNUAL EXAMINATION 2019-20
DATE
IX
XI SCIENCE
XI COMMERCE
2/17/2020
MATHS
ENGLISH
ENGLISH
2/18/2020
************STUDY LEAVE************
2/19/2020
ENGLISH
CHEMISTRY
B.STUDIES
2/20/2020
ML
************STUDY LEAVE*************
2/21/2020
************STUDY LEAVE************
2/22/2020
S.ST
PHYSICS
ECONOMICS
2/23/2020
***********SUNDAY**********
2/24/2020
HINDI
PHY.EDUCATION
2/25/2020
************STUDY LEAVE************
2/26/2020
************STUDY LEAVE*************
2/27/2020
SCIENCE
MATHS/BIO
ACCOUNTS
2/28/2020
************STUDY LEAVE************
2/29/2020
PUNJABI
……………
……………
3/1/2020
***********SUNDAY**********
3/2/2020
COMP/DRAW
……………
……………
Timing:
8:50am
3:00pm
Result Declartion:
7th March 2020
classes will start on 9th march 2020
PRINCIPAL
Circular No. ACAD/02/2020
Date: 5 Sep , 2020
Circular No. ACAD/02/2020
Subject: First Term Examination 2020-21.
Dear Parents
First Term Examination 2020-21. for all classes is scheduled as given below. It's the duty of both teachers and parents to prepare them well. Encourage and motivate them for the same. Kindly provide a proper environment at home for the preparation. This examinations will be conducted online.
With regards
Principal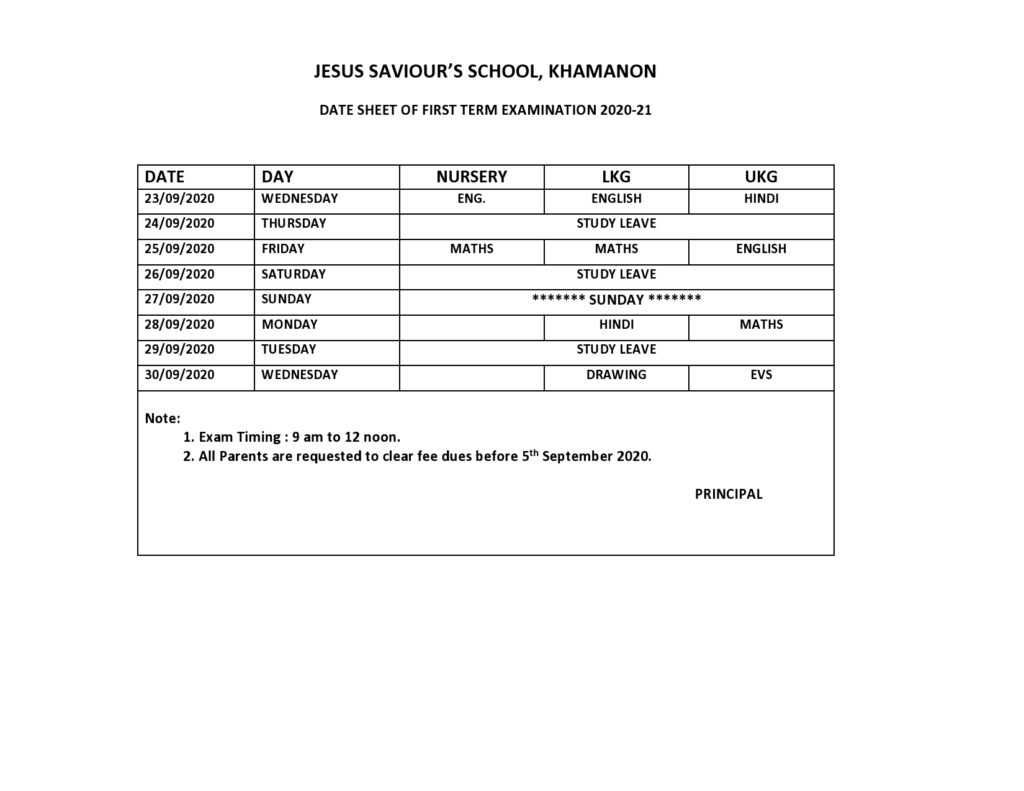 Circular No. ACAD/03/2020
Date: 6 Sep , 2020
Circular No.  ACAD/03/2020
Subject: Registration for classes IX, X, XI and XII 2020-21.
Dear Parents
It is to inform you that the process of registration for the classes IX, X, XI and XII to the CBSE has been started. Parents and students are requested to contact with the school office and make sure that all your entries (name of student, father name, mother name and Date of birth of the student) correct. You are also requested to deposit the required fee for the registration in the school office on or before 15 September 2020.
With regards
Principal